This post is a bit off the cuff, but I wanted to strike while the iron was hot on two crowdfunding campaigns that are currently killing it.
The first is the above
Overmind
by Jon Del Arroz, which is both a comic book as well as a novel! A Futuristic Adventure story in the spirit of
Valerian
, clearly this is a passion project for the writer who has already written a string of highly successful novels and comics. He has also included all kinds of add-ons and perks for those who desire it.
Here is the description:
OVERMIND!

Ayla Rin, Agent of Terra Prime has uncovered a plot against the Imperium!

On a faraway colony planet, the governor is linking his populace into an ethernet where they are being mind-controlled by a rogue artificial intelligence that seeks galactic domination!

Only Alya Rin can stop this nefarious plot and save humanity as we know it.

Fans of Valerian, The Incal, and Saga will love OVERMIND!

OVERMIND is a 66-Page graphic novel in the tradition of the great science fiction European comics, made for a modern era with the best art and storytelling in comics!

It is accompanied by a full-length sequel novel starring Special Agent Ayla Rin by #1 Bestselling Sci-Fi author, Jon Del Arroz.

We have a number of great rewards and add-ons with amazing collectibles and tons of books for your reading pleasure.
You can find
Overmind
here
. Follow the link to see more of the gorgeous art.
But that is not all, at the same time, author Brian Niemeier has also started a campaign for his final
Combat Frame XSeed
novel:
Combat Frame Ƶ XSeed!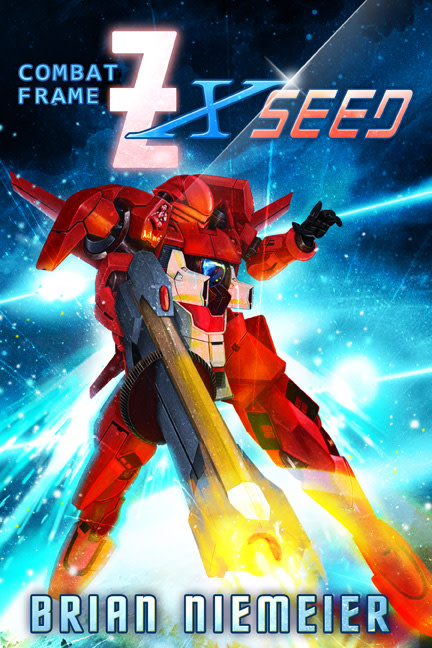 It's been a long road of space opera madness, a mash-up of 1980s-era mecha anime influence and the typical weird bent he gives to his works, but now it's finally reached the end. This is book six in the saga:
Combat Frame Ƶ XSeed!
The Hit Mech Saga's World-Rending Conclusion


Betrayed by their makers …

… their sole hope is vengeance.

Humanity reels from the disastrous Battle of Earth. Blamed for the crushing defeat, the Guardian Angels are branded as traitors.

Jehu, Dex, and Kaiser must make a daring escape to save their families from a resurgent terror.

To clear their names, they must lead the rebel ExSols they once fought.

But against the combined might of the UCP and the Ynzu, do even Angels have a prayer of victory?

If you like Halo and Neon Genesis Evangelion, you'll love Combat Frame Z Strike XSeed!
Not only that, but the stretch goals promise even more!
The XSeed saga is ending, but the fun's just starting! It's my pleasure to announce our first exciting stretch goal:

Readers loved the original Combat Frame Tech Manual. Having an illustrated guide to all the original series CFs made the pulse-pounding combat even more immersive.

All that was missing were stats on the incredible S-Series combat frames ...

Until now! Fans of the Mance, Imhullu, Einherjar, and other advanced war machines now have the chance to back a full-color guide to their favorite S-Series CFs.

Announcing our first stretch goal: Illustrated CF Tech Guide 2! Available when we reach $4000
Needless to say, it has almost reached the goal! Back it today to ensure it makes it!
Once more, you can find
Combat Frame Ƶ XSeed
here
!
It might seem a bit soon for another signal boost post, but I did not expect these two to not only go up but blow up as fast as they have. It's going to be a hot summer! Get ready.
Until next time!